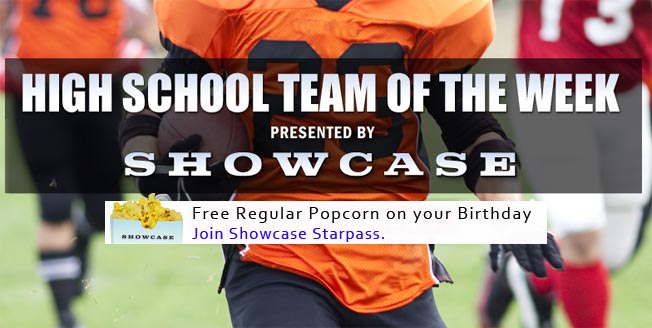 Congratulations to this week's Showcase Cinemas High School Team of the Week: Mount St. Charles Girls Varsity Tennis!
This week's spotlight was sent in by Richard Lawrence:
Six years ago two players on the Mount St Charles Tennis team were responsible for putting together an initiative to help feed the hungry. They called it Pass the Plate.Their idea was to have members of the varsity team donate a non-perishable at each home match. They also wrote to the captains and coaches of each visiting team, suggesting that they participate by having each player  bring a donation of food.  All items collected were then given to a local soup kitchen.  This initiative was also passed to the boys varsity team at Mount.
This program has now existed for six years – with donations of hundreds of food items being donated. This fall it was a bit different. Because of the pandemic, the captains of the Mount team decided not to reach out to opposing teams, but rather to have the home team bring in double the amount of canned goods to make up any shortfall. 
The goal each season is to collect a minimum of two or three hundred food items. And once again this fall season the team achieved what it set out to do.
This month the donations will be made just in time for the Thanksgiving Holidays.

Cumulus Media Radio Stations, Showcase Cinemas, & the Rhode Island Interscholastic League congratulate this week's stand-out team of the week.
Hear the team featured on Cumulus Media radio stations all week during our special on-air features, being played for the hundreds of thousands of local listeners!